LUMIN settings
General settings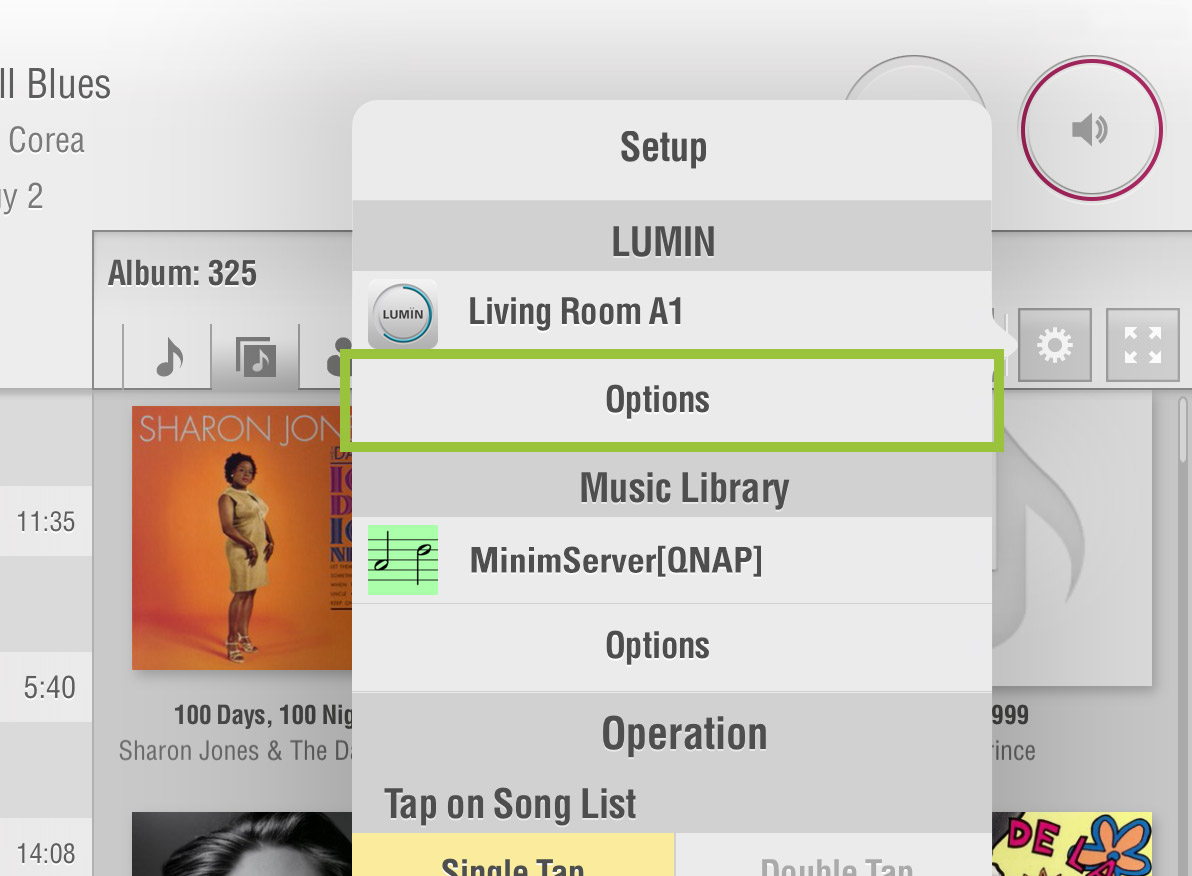 From the Browse window, tap the Settings button

and then select 'Options' under the LUMIN unit name that you wish to set.
Enter your chosen name for this particular LUMIN.
Here you can find login settings for all the supported streaming services.
See the appropriate instructions for each here:
Internet Radio
TIDAL
Qobuz
If set to 'Yes', LUMIN will automatically look for updates whenever the App is started.
The LUMIN Front Panel Display has adjustable brightness.
On some LUMIN players the network activity LED on the network port of the rear panel can be turned off.
LUMIN will go to sleep (saving a small amount of power and turning off the Front Panel Display) after the set period of inactivity.
If you don't intend to use the digital volume control, you can save space in the app for song titles, etc by turning it off.
Leedh Processing Volume Control algorithm is now automatically enabled by default for all LUMIN players. Read more about Leedh Processing here.
Note: Leedh Processing has no effect when LUMIN volume is set at 100%
Limit the maximum volume that can be output from LUMIN. Aimed at LUMIN Amp owners and also customers who connect their LUMIN directly to a power amplifier, you can set an upper limit on the volume output of LUMIN. The main volume control will still allow 100 positions of adjustment, but now the actual volume = main volume × Max Volume %. For example: if the Main Volume is 80, but the Max Volume % is 70, then the actual volume is 80 × 70% = 56.

Note: Max Volume % works with both Leedh Volume and traditional volume control.
On some LUMIN models with multiple Digital Audio Output Ports, each can be turned on or off here.
Some systems (perhaps with a high-gain pre-amplifier) may be better matched using the 'Low' setting. It uses a combination of DAC settings to lower the output level by around -4 db.
Some CDs (generally old) have a 'flag' for 'pre-emphasis'. High frequencies were occasionally increased in magnitude in order to improve Signal-to-Noise ratio. Digital files don't carry this 'flag' so only set this to 'on' for files that you know to need it. More info here. In-progress list of CDs here. This setting has no effect on High resolution files, or when re-sampling is used.



OR



If you have no need for the Digital Audio Output (to an external DAC), then you can turn it off here.
On some models, instead of this option, you can select which output you are using and the others will automatically be disabled.
MQA is a high-resolution audio codec. Depending on your system, you may prefer to let other hardware perform some of the MQA decoding.
Analogue Output: LUMIN will do all the decoding (Network Music Players only).
Digital Output: LUMIN will perform some of the decoding.
Passthrough: LUMIN will passthrough the full MQA stream to your DAC.
LUMIN Streaming is the function that allows compatibility with Apple AirPlay. If you have no use for this feature, you can turn it off here.
Roon Ready means that LUMIN is certified for use with Roon. If you have no use for this feature, you can turn it off here.
Spotify Connect means that LUMIN is certified for use with Spotify and the Spotify App. If you have no use for this feature, you can turn it off here.
Multiple LUMIN streamers can now play the same tune using the LUMIN App. Turn this feature on here. Once turned on, you can select "Listen to Sender" to choose a LUMIN player to listen to on this unit.
Read more about LUMIN Multi-Room here.
Some songs were recorded, or mastered with the phase inverted; some users may like to restore to the correct phase during playback. For general use, this should be left 'Off'.
If you know that your equipment is particularly sensitive to the higher levels of ultrasonic noise inherent to DSD you can apply this filter. For general use, this should be left 'Off'.